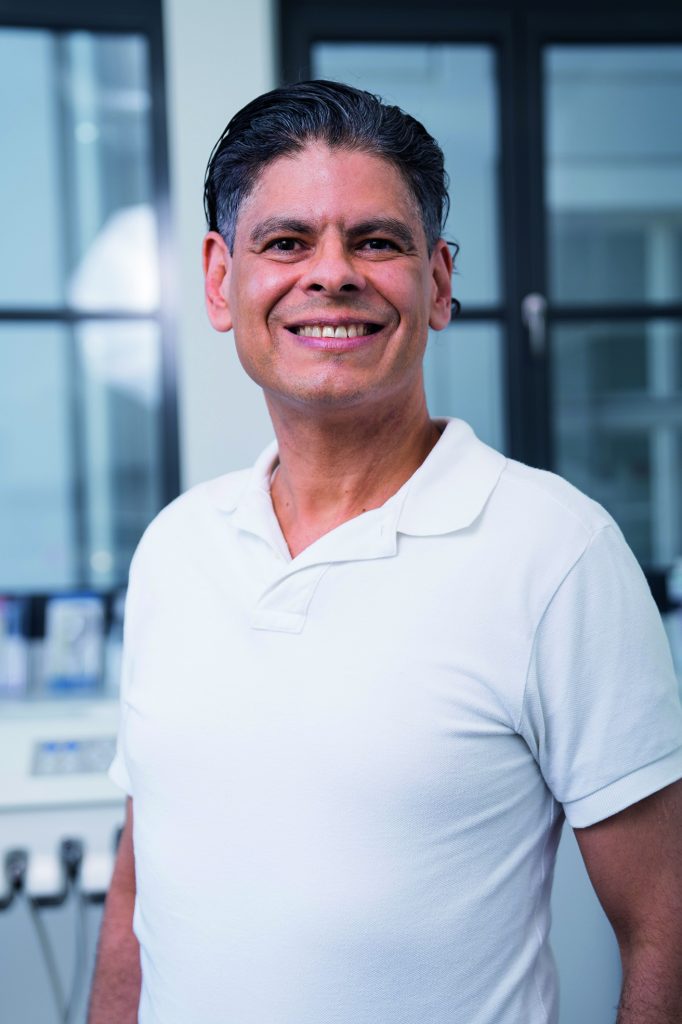 Prof. Dr. José Roberto Gonzales studied dentistry at the University Evangélica (UEES) and approved in Central America in 1994. For some years he expanded his knowledge of dentistry as an assistant in the Department of Periodontology at the UEES until in 1996 he was awarded with a scholarship from the German Academic exchange Service (DAAD). Now he moved to the Department of Periodontology of the University of Giessen. Here he formed and got postgrade knowledge at the Center for Oral and Maxillofacial Surgery, Department of Periodontology, under the direction of the renowned Prof. Dr. Jörg Meyle. Between 1998 and 2008, he worked at the Polyclinic of Periodontology as a dentist and researcher until 2008, he assumed the position of chief surgeon.
Besides his work, Prof. Dr. Gonzales formed continuously in the practice of dentistry for his patients. During his clinical training as specialists in periodontics from the German Society of Periodontology (DGParo) he was introduced in the conservative and surgical treatments. His efforts were recognized by the German Society of Periodontology in 2005 with the title "Specialist in Periodontology".
In addition, Prof. Dr. Gonzales dealt with exhaustive research in the genetic (hereditary) host factors on the formation of periodontitis. The elaboration of the research project was awarded by the PhD degree in 2003. However, he did not let the issue rest, but deepened his knowledge in his habilitation in 2009 at Justus-Liebig University in Giessen on "Genetic factors and their functional role in aggressive periodontitis".
In addition to his work at the university, Prof. Dr. Gonzales joined in 2010 as a specialist in periodontics in the dental office Prof. Dr. José Gonzales and Dr. Marcus Engelschalk in Munich. His patients benefit from his many years of research and its steady increase knowledge in key areas of dentistry. In addition to his studies and his contribution to research on the subject area of Periodontology, Prof. Dr. Gonzales wrote numerous scientific articles in German and international journals and shared his knowledge in lectures at conferences at home and abroad.
Today, Prof. Dr. Gonzales is a dentist and specialist in periodontics with passion, knowledge and empathy for any and all of his patients. With huge years of experience he gained as a senior physician at the Polyclinic and later in the community of the dental office, he offers his patients a wide repertoire of knowledge and is committed to the dental health of his patients. The constant aim of his dental office is to realize for the patients a healthy life with healthy gums and beautiful teeth.
The career at a glance:
1994: approval at the Universidad Evangélica UEES, El Salvador
Until 1996: Employed as Assistant to the Department of Periodontology at the UEES
1996 – 1998: Training fellowship at the Department of Periodontology, University of Giessen (Director: Prof. Dr. J. Meyle)
1998: employment as a dentist and researcher of the Department of Periodontology in Giessen
2003: German doctoral degree (Dr. med. Dent.)
2005: Award as a specialist in periodontics by the German Society of Periodontology (DGParo)
From 2008: Consultant at the Department of Periodontology of the Dental School at the Justus-Liebig-University, Giessen
2009: Habilitation for the Dentistry and Oral Surgery at the Justus-Liebig-University, Gießen (Dr. med. dent. habil., similar to PhD).
2009: Habilitation (… Dr. habil med) on "Genetic factors and their functional role in aggressive periodontitis and obtain the title private lecturer (PD Dr. med. Dent.)
2010: entry into the dental office Prof. Dr. José Gonzales and Dr. Marcus Engelschalk in Munich
2015: Accreditation as a apl-Professor at the Justus-Liebig-University, Giessen