Most modern dental technology and equipment

Neueste Scan-Technologie in einer digitalen Welt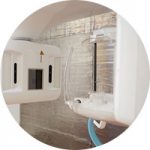 In the dental practice of Prof. Gonzales the most modern technology is used for the X-ray diagnostics of your teeth and the entire jaw.
In periodontology, the recognition of the finest tissue and bone structures is extremely important. This is possible with the digital three-dimensional technology of Rayscan. The device has optimized sensors, pulsed X-ray beam and a large number of images. Your jaw and teeth are displayed and analysed in a 3D image.
The technology allows for an exposure time of highest quality. In only a few seconds the 3D image is projected with a significantly lower reduction of usual radiation exposure. The device is suitable for patients of all ages and handicapped accessible, as is the complete furnishing and equipment of our entire practice.

3Shape Trios® Intraoral Scanner
Neueste digitale Technologie der zahnärztlichen Diagnostik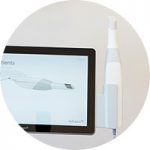 For the direct digitalization of the dentition in the oral cavity
Prof. Gonzales uses the 3Shape Trios© intraoral scanner.
With the Intraoral Scanner our dental practice offers you a high level of treatment comfort. This technology allows an exact data acquisition of the teeth and gums.
Patients receive a precise analysis and diagnosis on the virtual model directly on the screen, including a real-time display of the dentition. The data of the patient model are archived in digital form in our practice. This application of digital processes enables a smooth and optimal communication with the patient and the dental technician.

Neueste Laser-Technologie für die schmerzfreie Parodontitis Therapie

Prof. Gonzales uses the latest method of a special laser technology "A.R.C. FOX-Laser" for the therapy against periodontitis.
The laser kills the bacteria of periodontitis (periodontosis, gingivitis) directly in the gum pockets. Hereby an optimal reduction of germs is achieved.
The Fox-Laser enables a periodontitis treatment via a complete oral disinfection, a so-called "full-mouth disinfection".
The irradiation of the inflamed gums is done with the laser to remove deep-seated tartar, inflammatory tissue and bleeding gums. The periodontitis can thus usually heal well.

Airflow One© & Philips Zoom©
Neueste Technologie der
Zahnreinigung & Zahnaufhellung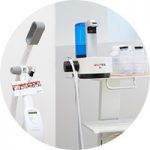 For your professional dental cleaning we use the latest technology "Airflow One".
Unsere Leistungen:
Oral hygiene check including a personal consultation
oral hygiene by qualified personnel
perfect and professional tooth cleaning through
qualified personnel with guaranteed precision
An extensive control by Prof. Gonzales
with a personal reconnaissance
For professional teeth whitening we use the latest equipment from Philips. The result is an aesthetic and effective whitening of your teeth.
During the treatment you will be informed in detail by Prof. Gonzales and a dental hygienist about the teeth whitening procedure and the colour adjustment of your teeth.